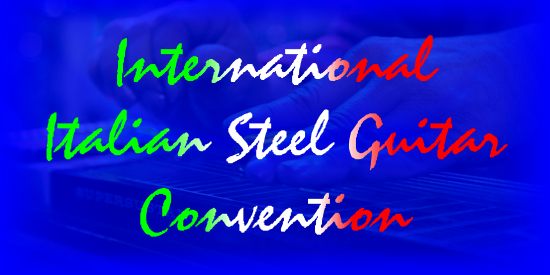 Dear European Steel Players.

After the very succesfull last steel meeting in 2014, where Dave Hartley was our guest, we decide to organize another event. This time it takes place on the 30th of April and the 1st of May in Fagagna, a small town in the north-east of Italy in the region Friuli.
Italy, the land of good and delicious food and wine, cosyness, nice weather and friendly people.

It will be a 2 days event where steelplayers from all over Europe will meet, play together, changing ideas and playing techniques, help to adjust their steels if needed, exchange, sell or buy parts.
We hope that everyone brings his or her steel guitar and amplifier.

The has made their villa available, with various rooms where you can play, jam and exchange ideas. There is no obligation to play, but if you wish you get the opportunity of course!

The purpose of the meeting is to bring steel players of all over Europe together in a pleasant, cosiness and relaxed manner.

We will take care of food and accomodation during two days without any profit.

The cost per person are:
€ 150,-- for 2 days, food&drinks and hotel accomodation for friday and saturday night included
€ 100,-- for 1 day, food& and hotel accomodation included. In case you cannot attend both days.

In case you only want to join the meeting inluding dinner, but don't need hotel accomodation because you arranged a hotel or stay by yourself, the cost per person are:
€ 80,-- for 2 days, food&drinks included
€ 50,-- for 1 days, food&drinks inluded.

Alcoholicdrinkes are for your own account. You can bring your own, but there are enough bars and restaurants in and around Fagagna. In fact you will be in one of the most famous wine regions of Friuli in northern Italy, the "Collio" famous for white wine such as "Ramandolo"

Since a lot of european countries are having holidays at the beginning of May, the steel meetingt could also be a nice start for a holiday as well!
Our advice is to contact steel guitar friends to make appointments about travelling together and sharing costs.
Let us also know if you want to share hotel rooms. You can also bring your partner if you wish.
You can fill it out in the application form.

New additional Information will be published on this site andalso be published here on Facebook in the European Steel Guitar group.

We hope to see a lot of you, dear steel players,

With best regards,

Giovanni Santoro, Matteo Strazzolini, Gianni Gori, Eugenio Poppi, Johan Jansen, Ellio Martina.


Design: Spaghetti Digitals © - All rights reserved.